Greenhorn, it's time to repair your lost and damaged units to full health! Keep enough Gold to repair the units and get them ready for the next Battle.
Post Mission and Battle, you can instantly repair your lost and damages units to full health by using Gold

The lost units if not repaired (either you skip or insufficient Gold) will be forfeited and will need to be re-trained from the start

Damages units not repaired will not be lost, but will have the current health when you start the next Mission/Battle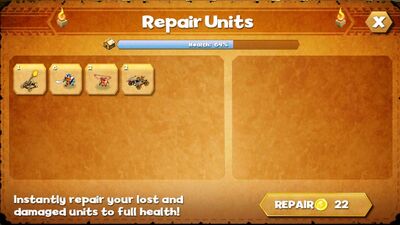 Ad blocker interference detected!
Wikia is a free-to-use site that makes money from advertising. We have a modified experience for viewers using ad blockers

Wikia is not accessible if you've made further modifications. Remove the custom ad blocker rule(s) and the page will load as expected.