Greenhorn, let's check out the Top Warbands and Top Guild!
Tap on the "Leaderboard" button to check the Top Players and Top Guild

Top Players
You can view the Top Players in the game with their Medal Count
You will be able to ONLY "Visit" the Players Base from this Leaderboard
You will be able to "Attack" 4 Players 'above' and 4 players 'below' your Standing in the Leaderboard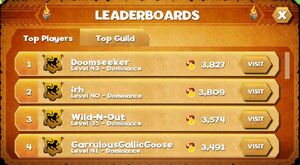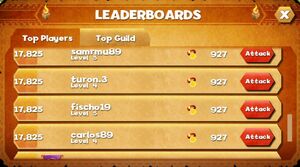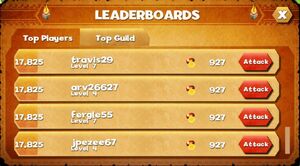 Top Guild
You will be able to ONLY "View" the Top Guilds in the game
Tap on the "View" button of a Guild and you'll be able to view all information about the Guild - Name, Description, Members, Medal Count, Guild Status
You can also send a Request to join a Guild here by tapping on the "Request to join" button
Ad blocker interference detected!
Wikia is a free-to-use site that makes money from advertising. We have a modified experience for viewers using ad blockers

Wikia is not accessible if you've made further modifications. Remove the custom ad blocker rule(s) and the page will load as expected.