Greenhorn, it may be time to consider working with other warbands. Not everyone in the Vale is hostile to us, and a Guild could be mutually beneficial!
A Guild can be created by building Guild Hall which allows you to participate in Guild activities, tournaments and leaderboards
You will need to fill in the fields to create a Guild
Guild Name - Choose a name for your Guild
Description - A brief description about your Guild
Minimum Medals Required - A number indicates how much medals a new member requires to have in order to join your Guild. For e.g. if you fill in 1000 medals, it means a player needs to have at least 1000 medals in order to join your Guild
Status - Open/Closed - Indicated the current status of the Guild
Insignia - Can be chosen from the default avatar list for your Guild
It will cost you 50,000 Silver and 50,000 Magic to create a Guild

You will need a Level 2 Guild Hall to create a Guild

A Guild can have up to 20 members

The Guild Leader is the one who creates the Guild and only has the rights to kick an alliance member

If a Guild Leader quits the Guild, the leadership status gets transferred to the next alliance member with highest Medal Count

Any new request join your Guild can be checked in the "Requests" field to accept, however the member can join the Guild without the Leader even accepting the request

Any Guild member can Visit and Send Troops to another member of the Alliance
You can also leave the Guild by tapping on "Leave" button, however all contributions to the current Tournament will be lost
You can also edit your Guild by tapping on "Edit" button, but will cost you 20,000 Silver and 20,000 Magic resources
The number of Units sent is limited to your Guild Supply Count

Select the units and tap "Send" to send them to your ally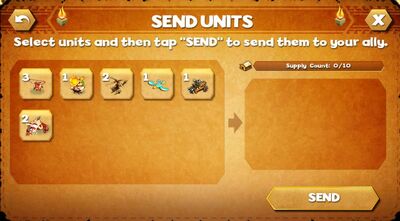 You then receive a pop up message "Player X has donated troops to Player Y"
You can collect the Troops sent by your ally member by tapping on the icon shown in the Guild Hall Building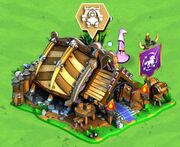 Upon tapping the icon shown in the Guild Hall Building, the troops sent by your ally can be accepted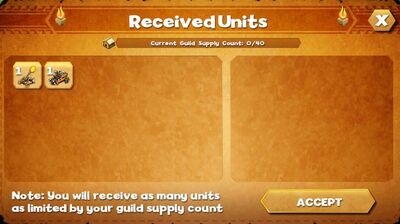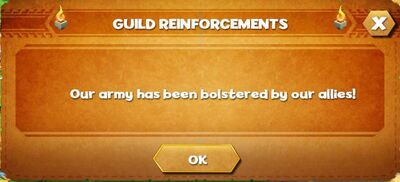 The Units sent by your ally will be shown with a Guild Tag on the Unit. The Units sent by your ally can't be used in the Battle if your supply count is maxed out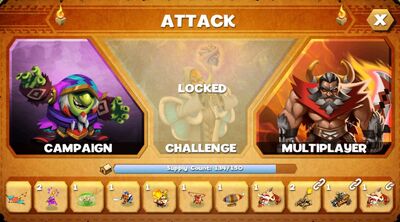 You can sell all Units sent by your ally by tapping on the "Sell All" button in Guild Hall building

 Once tapping on "Sell All" button, you can sell all the Guild Units by pressing on "Sell" button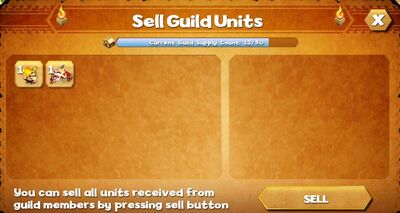 Sending/Receiving Units in Guild
You can Request for Troops via Guild Chat from your ally

Tap on Global Chat --> Guild Chat and Tap on "Request Troops" from your ally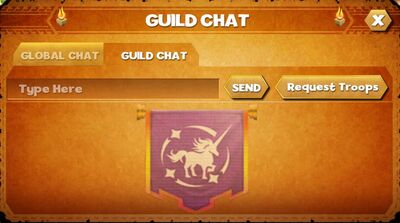 Tap on "Request Troops" and a message will be received to all your ally members 

Tap on "Send Troops" to send units to the requested ally member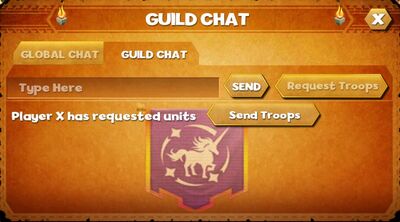 Select the units and Tap on "Send" to send the troops to the requested ally member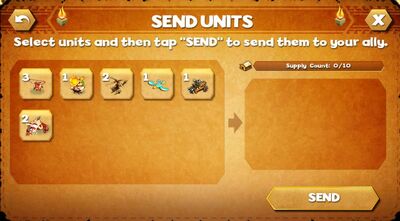 The requested ally member receives a pop up message when the unit is received
Tap on "Accept" button to receive the units sent by your ally member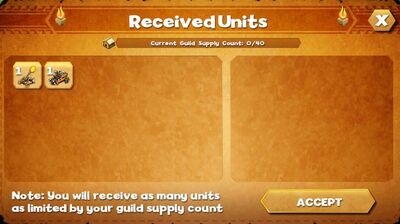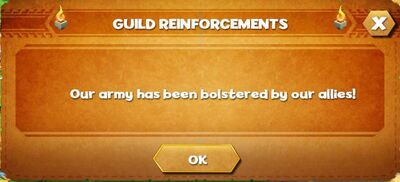 Guild League
Currently, there are 5 Leagues in a Guild
Bronze
Silver
Gold
Platinum
Masters
You will need to have a certain number of Medal Count unlock League Levels
'
| League Level | Medal Count |
| --- | --- |
| Bronze | 50000 |
| Silver | 100000 |
| Gold | 200000 |
| Platinum | 300000 |
| Masters | 1000000 |