New Leaf, it's time to take the enemy perimeter to deploy our units!
Tap in the Enemy Base perimeter to deploy your Units (infantry, air, vehicle)
You can review your troops available prior to Attack
In Multiplayer, user will not be able to attack your Base while online
Currently, there are two modes in Combat - Campaign Mission and Multiplayer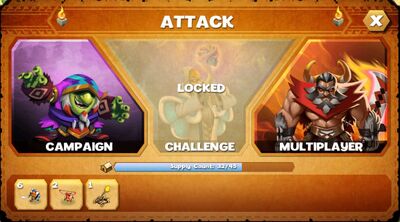 Greenhorn, it's time to repair your lost and damaged units to full health! Keep enough Gold to repair the units and get them ready for the next Battle.
Units which are damaged or killed from Mission and Multiplayer Battle needs to be "Repaired" by using "Gold" 

Skipping the Repair task for Killed Units from Battle will be lost

Skipping the Repair task for Damaged Units from Battle will not be lost, however will have the current health status during the next Attack/Battle
Ad blocker interference detected!
Wikia is a free-to-use site that makes money from advertising. We have a modified experience for viewers using ad blockers

Wikia is not accessible if you've made further modifications. Remove the custom ad blocker rule(s) and the page will load as expected.