New Leaf, let's build an Armory to upgrade our units to take the fight to Ulrick!
Upgrades your Units (Infantry, Vehicles, Aeria) and Powerups via specialized magical initiatives
Can be upgraded up to Level 4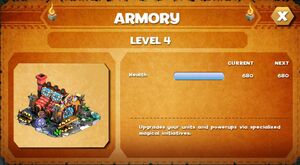 We're close now, but it's no time for New Leaf mistakes. The Druids have recommended an armor enhancement for use in Battle. It will require an upgrade to our Armory. 
Let's be prepared for a pitched Battle, Deeproot!
Go to Armory Building and tap on "Research" to upgrade your Units and Powerups up to Level 5
You can select each Unit and upgrade them via Researching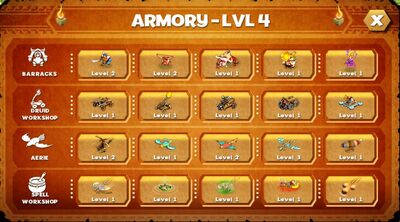 Armory Upgrade Statistics
| Level | Silver Cost | Magic Cost | Build Time | Experience Gained | Health |
| --- | --- | --- | --- | --- | --- |
| 1 | 5000 | 5000 | 30 min | 300 | 400 |
| 2 | 500000 | 500000 | 30 min | 675 | 455 |
| 3 | 1000000 | 1000000 | 24 hr | 1688 | 525 |
| 4 | 1200000 | 1400000 | 48 hr | 4219 | 680 |